THE unUSUAL
This production will run WITHOUT intermission

Share, Like, Review... basically, do ALL the things to promote OPEN DOOR REP before and after the show!

All proceeds benefit NAMI Greater DM
THE USUAL
Turn off all cell phones & electronic devices, please.

No photo or video during the show

We ask you kindly to zip it. It's an intimate space and we can hear everything!

Learn about the CAST & CREW, and our FAVORITE people below
is excited to be a part of this talent group to perform this import piece. This is Brad's first show with Open Door, but audiences may remember him from the numerous roles he had played throughout the Des Moines with various companies. Some of his more recent roles include Fred Graham/Petruchio in Kiss Me Kate and Father Flynn in Doubt, both at Ankeny Community Theater, Harry in Mamma Mia! and Harold Hill in Music Man Des Moines Playhouse. Other favorite roles include Willy Wonka in Willy Wonka ( for which he won the Dionysus Award for Best Actor) and Franz Liebkind in The Producers. When not performing, Brad enjoys going to movies, craft beer, college football and basketball, and socializing with friends and family. By day, Brad is a Training Coordinator with Disability Determination Services.
has numerous Greater Des Moines credits including Rock of Ages (Des Moines Playhouse), Hillary: A Modern Greek Tragedy (Tallgrass Theatre Company), Shattered (Whippoorwill Theatre), A Streetcar Named Desire (Des Moines Playhouse), and Macbeth (Goldfinch Theatre Company). She is the admin for the Theatre and Music Departments at Grand View University and enjoys spending time with her husband, Drew, and their four children.
is new to OPEN DOOR REP. She is beyond thankful that she was given the opportunity and knows it won't be her last time working with them. Kiera is currently studying Theatre Performing Arts: Acting at Drake University with a side study of Public Relations. Since Kiera is a senior, she's excited to fully merge into the community theatre scene once she graduates. Kiera would like to thank her family and friends for always believing in her. She would also like to thank you, personally, for being here and wants you to understand that mental illness is a real thing that can effect ANYONE around you. So be kind, smile more, and enjoy the show. P.s. Kiera is always open for gluten and dairy free food donations. :)
Ashley Schaeffer is thrilled to be working with Open Door Rep in The Manic Monolgues! Ashley & her husband Alex recently moved back to the Des Moines area after living in Chicago for the last 4 years. Most recently, Ashley played Emmy in Iowa Stage Theatre Company's production of "A Doll's House Part 2". Other recent productions include the Midwest Premiere of "Rocket City Alabam'" and "Abduction: The Musical". Previous Des Moines area productions include "Carrie the Musical" and "Next to Normal" at StageWest Theatre Company and multiple productions during her time at Iowa State University. Ashley works as an HR Project Manager for a staffing company based out of Chicago. She has never met a dog she doesn't like and will go out of her way to pet one on the street. She'd like to thank her family for always supporting her passion for performing. Ashley is grateful for the opportunity to share the many stories of mental illness with Des Moines audiences. These stories are representative of the millions of people diagnosed with a mental illness each year. Diagnosed with OCD herself, Ashley hopes this show can shed light on the topic of mental illness, work toward ending the stigma, and provide support for those living with mental illness.
is thrilled to be apart of their first show with Open Door Rep. You may have seen Jake in other productions around Des Moines, including The Taming of the Shrew (Grumio) and Every Five Minutes (Bozo). Jake would like to thank their friends; family; their fiancé, Jackie; and their two cats, Inky and Mr. Boi.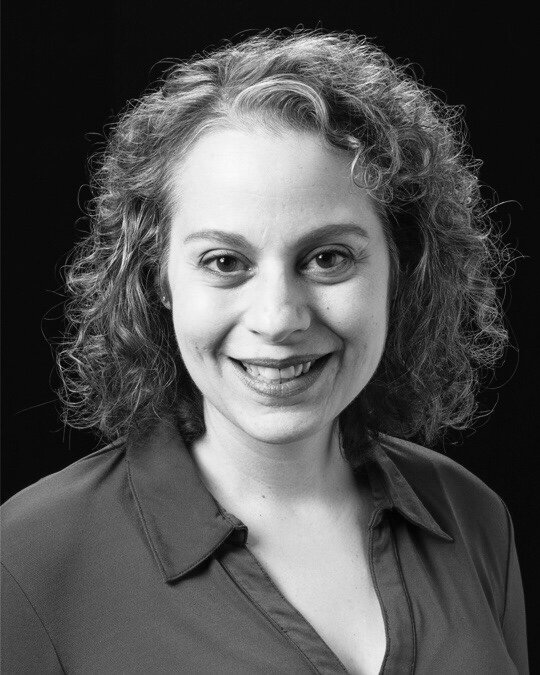 has performed most recently at the Des Moines Playhouse in Silent Sky (Annie Cannon), The Miraculous Journey of Edward Tulane (The Traveler), and Ragtime (Emma Goldman). She appeared as Chelsea in Tallgrass Theatre's production of On Golden Pond, and in StageWest's Every Five Minutes and My Name is Asher Lev. Laura is a cantorial soloist at Temple B'nai Jeshurun, and a singer with the Java Jews klezmer band.
is pleased to be making her Open Door Rep debut in The Manic Monologues. Patty works at Highland Park Animal Hospital. She has a BFA in theatre from Drake University and has worked in both amateur and professional productions on stage, film, and television in Iowa, Minnesota, and Los Angeles. Favorite roles/productions include, Bloody Mary in South Pacific (Dionysus Award Nominee), Sheila in Hair, Comrade Chin in M. Butterfly, Diesel in Jerry Springer the Opera, The Dining Room, and The Vagina Monologues. Much love to my fiance, James for all your love and support.
returned to acting in 2019 after a 25 year hiatus. She played Judy Moody's Mom in Judy Moody and Stink and the Mad, Mad, Mad, Mad Treasure Hunt and Williamina Fleming in Silent Sky, both at the Des Moines Playhouse. Her day job is in radio and her full-time job is being mom to her two (mostly) wonderful teenagers, Piper and Ben.
Stage Credits Include: Epic Stage Productions - Utopia; Noce – The Normal Heart (Mickey Marcus); Pyramid Theatre Company - A Soldier's Play; Repertory Theatre of Iowa - The Crucible; Stagewest - Ugly Lies The Bone, Clybourne Park, Distracted, Superior Donuts; Tallgrass Theatre - Sylvia; The Des Moines Playhouse – The 39 Steps; Family: James and our dog, Albert; Education: Knox College
is excited to be making his Open Door Debut. He was last seen on stage as Billy Bibbit in Carousel Theatre of Indianola's production of "One Flew Over the Cuckoo's Nest." Other Carousel Theatre Credits have included Charlie Brown in "You're A Good Man, Charlie Brown!", Richard Henry Lee in "1776", and George in "The Drowsy Chaperone." He currently serves as a local contributing editor for Broadwayworld.com where he enjoys reviewing local productions.
is a sophomore at Hoover High School where she is actively involved in drama. At Hoover, she has recently performed as Toni Crawford in 13 Past Midnight, Ellie in Freaky Friday(Triple Threat Nominee/Iowa High School Musical Theater Awards) and Lilith in She Kills Monsters. Aside from Hoover Drama, Sage has also been involved with Des Moines Young Artists' Theater since she was 9 years old where some of her credits include 13 the musical (Molly), School of Rock(Summer), I Never Saw Another Butterfly (Young Raja/2017 Cloris Award), and most recently, Lost Girl(Swing/Assistant Director). She is very excited to be joining Open Door Rep for the first time to share this important story.
has been previously seen with OPEN DOOR REP as Alice in Closer. Other recent roles include Christina Linden in A Doll's House with Iowa Stage, Kristine in A Chorus Line at Des Moines Playhouse, Carol in Oleanna with Tallgrass, and Magenta in The Rocky Horror Show with KataKlysmic Productions. Emily has a BA from Northwestern College in music and theater and spends her days as an actor, director, educator, adjudicator, and supporter of her fellow theater artists.
After taking a hiatus from acting to complete his marketing degree (Upper Iowa, Go Peacocks!) and become a licensed Electrical Apprentice ( ABC of IA, graduating in May ), Edward would like to thank Open Door Rep for his return to the stage(for real, where's the time for studying during tech week?). Some of his most recent roles were in Whipporpool's Shattered (Raven), DMSC's Danny & the Deep Blue Sea(Danny), StageWest's Take Me Out (Darren Lemming).
Throughout her life, Gabriela has always tried to balance her two passions: serving her community and the arts. She was born in La Paz, Bolivia and she is also Chilean and American. She was a flamenco and contemporary dancer since she was three years old, but she had to stop due to an injury. Her journey in theater began in 2007 when she joined a local group from her university and they began creating independent theatrical pieces. During her academic studies in Bolivia, she continued expanding her artistic practice in theater and short films combining it with her work in local non-profits focused on assisting low-income communities, women, and victims of human trafficking. In 2015 she came to the United States for an International Studies graduate program at Ohio University and she was selected to perform in the Vagina Monologues in 2016 and 2017. In 2018 she moved to Des Moines and in 2019 she acted in One Writer, One Actor, One Week and in the 48 Hour Film Project.
Gabriela is currently working at a women's health non-profit and additionally enjoys using her language and cultural skills to serve as an interpreter and Spanish teacher.
This is Greg's first time working with Open Door Rep but other recent area credits include; Froggy in The Foreigner with Tallgrass Theater, Wilson in The Great Gatsby with the Des Moines Playhouse, Branigan in Guys and Dolls at Urbandale Community Theater, Professor Willard in Our Town with Repertory Theater of Iowa ; Bob Cratchit in A Christmas Carol and Rodrigo in Othello with The Iowa Shakespeare Experience and Atticus Finch in To Kill a Mockingbird at the Des Moines Playhouse. Some other favorite local area credits from the past include; Jack Palmer in Boys Next Door at Ankeny Community Theater and Alexander in Alexander and the Terrible, Horrible, No Good, Very Bad Day, Bilbo Baggins in The Hobbit, and Pa Ingalls in Little House on the Prairie at the Kate Goldman Children Theater. Greg is excited for the chance to be involved in this production and with Open Door Rep. Greg is a long time resident of Dallas County, is married to Lisa and has two grown children, Rebecca and Andrew.
NICOLE TAWEEL
- Stage Manager
has assistant directed and stage managed over 30 shows in the Des Moines area, working with various theater companies and phenomenal talent. She has also worked a number of shows back stage as set crew, props crew, light crew, board operators, and dresser. Nicole is very pleased to add Open Door Rep to this list of my theater experiences.
Some of the shows she have been involved in over the years are:
Tallgrass Theatre Company: Eat Your Heart Out, Rumors, Stop Kiss, Women Playing Hamlet, Barefoot In the Park, Independence, The Goat, or Who is Sylvia?
Noce: Souvenir
Stage West: Good People, Distracted, Superior Donuts, The Underpants, Reefer Madness, Miss Witherspoon, Frozen (by Bryony Lavery, not the Disney musical)
Theatre For A Change: Corleone: The Shakespearean Godfather
Des Moines Playhouse: Footloose, South Pacific, One Flew Over the Cuckoo's Nest, The Graduate
Robert John Ford's – Utopia, Six On Six
During the day Nicole works as a Systems Analyst at Wells Fargo. She has 2 pups at home she likes to call 'my squatters'.
SPECIAL THANKS
To Gabriel Tejeda-Benitez (check spelling) - PHOTOS
For always wading through our thousands of ideas to pull together a show image that so perfectly conveys what we were 'trying' to say. And for being a true champion of local theater that we all aspire to be.
To Drew aka sprawlingcharles
For the killer Spotify playlist. You are a master at capturing the mood & mystery of a show in musical form.
To YOU, who bought a ticket for tonight's show, donated a few bucks, enjoyed a drink and took a chance on a brand new, pop-up theatre company in Des Moines after seeing Facebook ads for weeks...thank YOU!!
To everyone who offered to promote OPEN DOOR REP on your websites, podcasts, radio shows, morning TV shows or just plain shared us with friends...
You're the BEST and we thank you dearly!